WTS International (WTS), the spa, fitness, lifestyle consultancy and management firm, is celebrating the opening of the Spa and Wellness Center at The Blake at Taos Ski Valley, New Mexico, for which it provided design consulting, pre-opening services and now daily management services.
Taos Ski Valley Resort was founded by German skiing pioneer, Ernie Blake, in 1955 and was influenced by Native American culture and Spanish Colonial history. Recognizing the importance of respecting these cultures, WTS collaborated with the hotel design team to incorporate elements of local Pueblo and Navajo tribes' identities into the new spa's design and layout.
The property showcases a collection of original art to give a true gallery feel, while original Pueblo pottery is on display in the relaxation lounge.
Mary Lynn Mellinger, Director of Planning and Design at WTS International, said: "There's a real sense of place at the resort. We were tasked with making suggestions for ways of integrating the rich history of the region into the look and feel of the spa and wellness center. The spa menu's services and treatments also draw on these traditional influences."
The spa has four treatment rooms with one functioning as a couples' room, and a relaxation space and mixed quiet room with a water feature.
An express treatment area offers chair massage sessions for guests who need immediate support after coming off the slopes.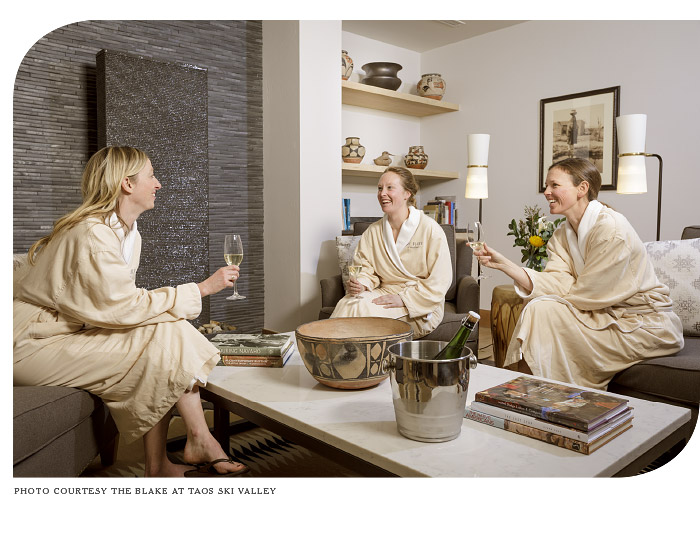 Innovative treatments developed for the spa include the Intentional Aromatherapy Massage, during which guests are invited to the aroma design bar where they work with an alchemista to create a custom blend of aromatherapy oils for use during the massage.
The choice comes from the finest organic- and therapeutic-grade essential oils from Body Bliss.
The spa also offers the Earth Elements massage during which hand-carved, organic salt stones, are warmed and incorporated into the massage experience to elevate it to another level.
The Earth Elements massage was developed in partnership with Saltability.
Steven Rose, Director of Hospitality at Taos Ski Valley said: "We're delighted to have WTS International as a collaborative partner at The Blake at Taos Ski Valley, helping us develop our wellness programming, spa treatments, products and amenities.
"The design and feel of the spa is intended to honor and recognize the many cultures that make this region unique," added Rose.
The fitness center provides equipment to suit guests who come to the region all year round. It also includes specific pieces of equipment designed for skiers' needs.
Susan Shanmugham, Project Designer for fitness at WTS explained: "At this facility there will be a focus on recovery, to help skiers get back to optimal performance. For example, we've included Normatec Pulse Recovery Systems, which are dynamic compression devices to target the muscles which skiers use and to cater for guests who are looking for additional recovery after a day on the slopes."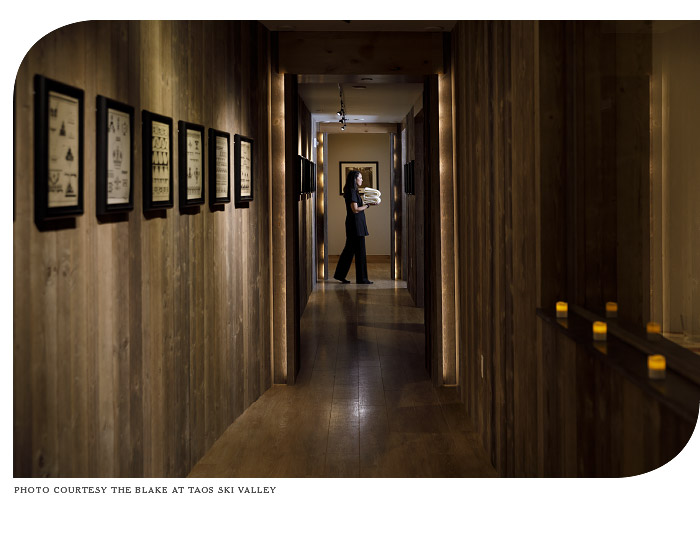 Other key pieces of equipment in the fitness center include a SkiErg, an upright machine which mimics the motion of cross-country skiing and helps build strength and endurance by working the entire body in a rhythmic motion.
EAST-related spa treatments focus on cooling and rehydration, such as the Sole Renewal, while EAST fitness programs revolve around recovery clinics for the mountain sport enthusiast.
The SOUTH is associated with water and purification, with treatments such as Yoga and The Blake Signature Massage, while the WEST is connected to fire and is the most energetic of the directions, with spa treatments and fitness programs which build vitality and energy, such as the Peloton bike workout and the hot salt stone massage.
At the heart of all treatments is the Golden Center, which nourishes and supports the other directions and represents a state of optimum balance. Spa treatments and fitness programs focus on balancing the body's energies and include small group circuit training and sports massage.
Andrea Dubois, Senior Project Designer for spa at WTS, concluded: "We want guests to sample a piece of Native American culture, even if it's a ritual incorporated into a treatment. Local customs are very focused on the spiritual world and healing. We want guests who come to the spa and fitness center to experience that healing process."
For more information, or to request high resolution images for this piece, please contact us at info@wtsinternational.com.