Washington, DC—WTS International (WTS), the spa, fitness and lifestyle consulting and management firm, has designed the 6,000sq ft (557sq m) Ocean Spa at the Marriott Autograph Playa Largo Resort and Spa, which is set to open later this year.

The stars have aligned perfectly for the new property, which hits key milestones for the companies involved.
The first new-build in the Upper Keys in over 20 years, the Key Largo property – which is co-owned by Shaner Hotel Group and Prime Hospitality Group – is also the Marriott Autograph Collection's 100th property.
The Ocean Spa, designed by WTS, will be the first full-service spa in the Upper Keys and includes a couples treatment room and five further treatment rooms, a co-ed lounge, hair and nail salon and a 1,500sq ft (139sq m) fitness center. It will be operated in-house by Spa and Wellness Director Caroline Wilmot, under the guidance of WTS.
Wilmot will oversee the development of all Ocean Spa's wellness programs, as well as creating spa treatments, managing the salon, the fitness facilities, kids club and spa personnel, as well as running the day-to-day operations.
Commenting on the visitor experience at Ocean Spa, Wilmot said, "From the warm welcome and customized experiences, to enjoying refreshing Mango or Hibiscus Tea, to the tropical, ocean-inspired services, our guests will enjoy an island spa experience like no other."
Ocean Spa's treatments are inspired by Playa Largo's seaside location. They incorporate high-end, marine-based products and indigenous flora to create four signature services, including the Tropical Body Glow, a 90-minute scrub and massage that immerses guests in aromatic coconut and pineapple shea butters that exfoliate the skin.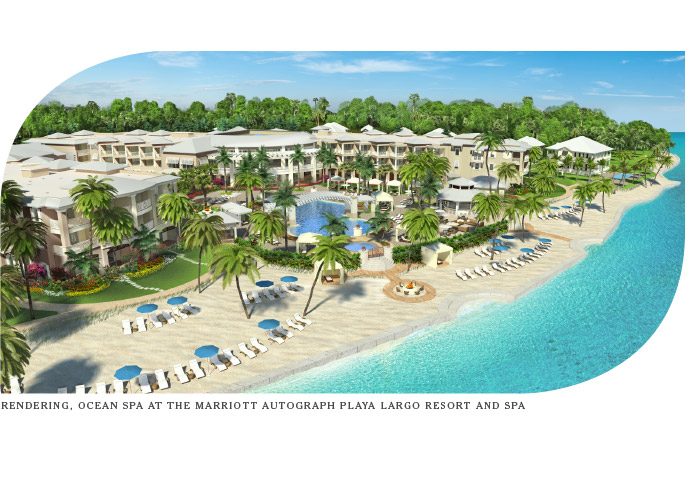 Other inspired treatments include the Mojito Salt Scrub, the Awaken Coffee Scrub, the Coconut Sugar Scrub and the Ocean Dew and Bamboo Scrub.
All are created using locally-sourced fresh, organic ingredients.
Susie Hammer, WTS' Vice President of Spa Operations, said, "We're proud to be associated with the first new-build in the Florida Keys in more than 20 years."
"With Playa Largo we have the opportunity to bring a new level of beauty and wellness to the island and its visitors. It's a unique spa which provides guests with authentic, local spa experiences," she concluded.
Designed and conceptualized by architects Prime Design Associates, with The Gettys Group responsible for the interior design, the US$100m Playa Largo Resort features 144 bedrooms and suites, 10 private bungalows, a beach house for small group and corporate events, a waterfront pool, tennis courts, basketball courts, and 745 ft. of white sand beach.
The resort features a private marina, three signature restaurants, Sandbar, a ballroom with private courtyards, a formal lawn for banquets and weddings, kids' activity and nature learning center, and sports courts.
Editors' notes:

As the first new-build in the Florida Keys for some time, the Marriott Autograph Playa Largo aims to offer a new level of luxury accommodations and service from the outset, to create an unparalleled resort destination in the Florida Keys.
As a result, it has more modern features, interior design and technology. For example, every room will be equipped with an iPad, giving guests one-touch control of their experience.
Playa Largo is aiming to be one of the most eco-friendly hotels in Key Largo. It will be the first commercial venture of any kind in the Florida Keys to invest in a Power Knot liquid food composter, decreasing the resort's carbon footprint by a massive 147 tons annually.
For more information, or to request high resolution images for this piece, please contact Mary Simpkins at msimpkins@wtsinternational.com.